June 9th and 10th - 2018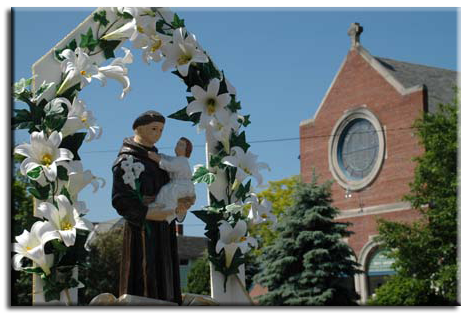 St. Anthony of Padua Church, 50 Pomeroy St., Cortland, NY
Fun and Food for the whole famiglia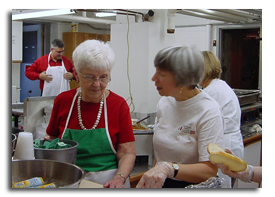 Saturday Evening:
Pizza, Meatball Subs, Sausage and Pepper and Onion Sandwiches,  and Pasta Salad 
Sunday:
Spinach Lasagna Roll-up, Meatballs, Meatball Subs, Sausage and Pepper and Onion Sandwiches, Pasta Salad, Verze e Fagioli (Greens and Beans) .Pasta e Fagioli
********
Dolci Saturday Nite and Sunday:
Assorted Italian Cookies, Amaretti Cookies, Biscotti, Pizzelle, Cannoli, Pasticiotti, Sfogliatelle, Water, and Coffee.


Kids Food Saturday Nite and Sunday:
Hot Dogs, Popcorn, Candy for the Kids.
Beverages Saturday Nite and Sunday:
Coffee, Soda, Water, Pelligrino Water, Beer, and Wine.
Festival Sponsors and Donors:
 Bill Bros. Diary

 Cortland Carbon Copies
 Groton Ave. Liquor
 Hairy Tony's
 Knights of Columbus
 Leach's Custom Trash Service

 McNeil and Company, Insurance and Risk
 Riccardi Funeral Home, Inc
 Scott Hopko Designs
 What's Hot Magazize
 Wright-Beard Funeral Home
 A special thanks to our neighbor Dr. Manoj Kumar,
 and all those who volunteered.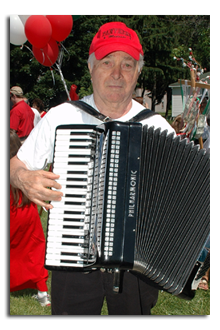 The St. Anthony's Festival will be providing musical entertainment on two different stages. The large stage will run as it has in the past on the 'Showmobile' and the 'Piccolo Stage', smaller stage will be running under the tent.  The stages will alternate acts for a schedule of continuous music throughout the festival. 
---
Saturday night, June 9th:
6:30-7:00   The UnReal Duo (Tom Gath & Ted Walsh) on the Piccolo Stage
7:00-8:00   The Delta Mike Shaw Band                        on the Main Stage
8:00-8:30    The UnReal Duo                                        on the Piccolo Stage
8:30-End     Small Town Shade                                     on Main Stage
 Small Town Shade will play through the fire works @ 9:30
Sunday, June 10th
1:00-2:00     Cortland High Jazz Band                          Main Stage
2:00-2:30     Joey Nigro                                                 Piccolo Stage
2:30-3:30     Rachel Beverly                                          Main Stage
3:30-4:00     Joey Nigro                                                 Piccolo Stage
4:00-5:00     Steve Daniels Swintet                               Main Stage
5:00-5:30     Joey Nigro                                                 Piccolo Stage
5:30-7:00     Old Timers Band                                        infront of Main Stage
7:15-8:00     Johnnie & Lonnie                                       Main Stage
Saturday night's headliner Small Town Shade has one EP out "Ring It Up". They have
2017 Syracuse Area Music Award (SAMMY) for Best Country Recording .
And new Small Town Shade music should be out this summer. More info for Small Town Shade can be found: http://www.smalltownsha de.net
The first band on the main stage, the Delta Mike Shaw band had such a great 
reception last year that they were gladly invited to return this year to get 
the crowd moving to their own version of swamp rock. 
To start the entertainment off is local music heroes Tom Gath and Ted Walsh
Sunday has the return of the Cortland High Jazz band early at 1pm.
Following the jazz band is local singer songwriter Rachel Beverly, hailing from Virgil, NY, whose second EP is slated for this summer. 
Next is a musical "cugino" (cousin) to the Festival, Steve Daniels, who brings 
his very talented Swingtet to swing and sway us again. 
Following the Swingtet is a Festival favorite, the Old Timers Band who have 
been loved by the Festival even before there was a Festival. Make sure to 
clap loudly during "Caderna"!
Rounding out the Festival are two of the areas most internationally traveled 
musicians Johnny & Lonnie, who have been local and interntional favorites 
for years. 
In between the bands will be the incredible Joey Nigro
who so moved the crowd last year with her festive Italian songs
and traditional covers. A crowd favorite that will get the Italian 
dancing in all of us.
You are here:  

Uncategorised
********
Published on Jun 18, 2017 This video is about a day at The Saint Anthony's Festival! This was a fun day walking in the parade around the block, eating food, and just hanging out with everyone there! Please enjoy this video and share if you enjoyed!