June 10th and 11th - 2017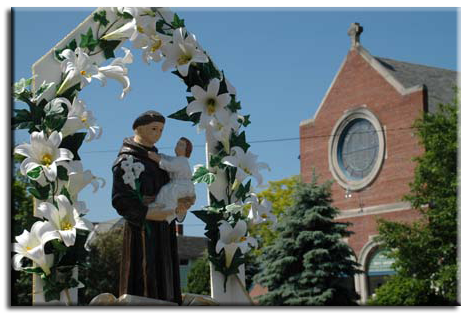 St. Anthony of Padua Church, 50 Pomeroy St., Cortland, NY
Come join us in celebrating the St. Anthony of Padua Parish Centennial! 1917 - 2017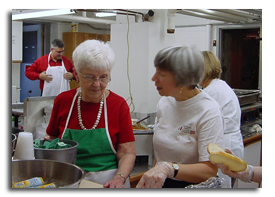 Saturday: Spaghetti Dinner (Inside the church hall from 4 PM until 7 PM) and Outdoor Food, including St. Anthony's Italian Sausage and Pepper Sandwiches. Pizza, Lasagna, Pizza Fritta, Muffaletta Tortelini Salad, Gelato, and Italian sweets from the Dolci Booth (until 10 PM)
Sunday: Italian and Ethnic Food (Outdoor Food)  Lasagna, Muffaletta Tortellini Salad, Verze e Fagioli (Greens & Beans), Pasta e Fagioli (Pasta & Beans), Gnocchi with sausage and broccoli, Hot Meatball Sub, Italian Sausage & Pepper Sandwiches, Pizza Fritta, and Gelato
********
Dolci Saturday Nite and Sunday: Cannoli, Biscotti, Pizzelle, Pasticiotte, Amaretti, Sfogliatelle, and Homeade Italian cookies

Kids Food Saturday Nite and Sunday: Hot Dogs, Popcorn, Candy for the Kids.
Beverages Saturday Nite and Sunday: Coffee, Soda, Water,
Pelligrino Water, Beer, and Wine.
Festival Sponsors and Donors:
McNeil and Company Insurance & Risk Services
The Discenza Family
What's Hot Magazine
Hopko Designs
Riccardi Funeral Home, Inc.
Carbon Copies
Hairy Tony's
Bil Bros. Dairy
Comando's Resturant
Pudgie's Pizza
Dr. Kumar's Office
Jack'D Up Tents
Groton Avenue Liquor
Anthony Camilli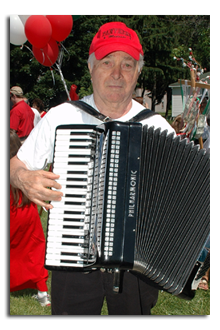 The St. Anthony's Festival will be providing musical entertainment on two different stages this year.  The large stage will run as it has in the past on the 'Showmobile' and the 'Piccolo Stage', smaller stage will be running under the tent.  The stages will alternate acts for a schedule of continuous music throughout the festival. 
---
Saturday June 10th
Saturday Night at the St. Anthony's festival will be an exciting night to bring you, your friends, and the whole family to hear non-stop incredible music right up to the fireworks at 9:30 !

6:30-7:00pm Rick Starmer (Playing his original music)
7:00- 8:00pm Delta Mike Shaw Band (Swamp Blues for your dancing shoes)
8:00-8:30pm Tribal Revival Trio (The festival becomes a Revival)

8:30-9:45pm The Blind Spots (The Ithaca Band that will make this summer night even hotter! )

9:30 pm Fireworks   (sponsored by The Discenza Family and McNeil & Company Insurance & Risk Services)


Sunday June 11th

12:30pm: Festival Begins (Italian & Ethnic Foods, Basket Raffle, Cake Wheel, Traditional Keepsakes and Italian Novelties for sale, Music Entertainment, and Children's Games.
1:00-2:00: Katie Niver and the Voices of Angels (on Showmobile)
2:00-2:30: WCNY Classic FM Ciao radio show co-host Joey Nigro and co-producer John Nilsen (piccolo stage)
2:30-3:30: Steve Daniels Swingtet (on Showmobile)
3:30-4:00: Joey and John (piccolo stage)
4:00-5:00: Steve Southworth & the Rockabilly Rays (on Showmobile)
5:00-5:30: Joey and John (piccolo stage)
5:30-7:00: Old Timers (in front of Showmobile)
7:00-8:00: Tink Bennett & Tailor Made (on Showmobile)
8:30pm Festival Ends
Published on Jun 18, 2017 This video is about a day at The Saint Anthony's Festival! This was a fun day walking in the parade around the block, eating food, and just hanging out with everyone there! Please enjoy this video and share if you enjoyed!
You are here:  

Uncategorised